Come join us.
We're always on the lookout for great talent. If you're wondering 'where next' in these challenging times, we'd love to hear from you.
Get in touch
Looking for a new home for your best work?
Chances are, you're where we all are right now – in a land of uncertainty, unease and with a degree of contemplation. You're likely working from home, somewhere across the UK, and facing the growing prospect of trips to the 'office'.
At Fuel we've always believed our people should work from wherever they feel most productive, appreciated and fulfilled. It's a culture based entirely on trust. And a culture that invests in cherishing what matters most: our people. Since lockdown they have truly thrived. Yes it's been unsettling, but everyone has pulled together as a team and has won through with humour, steely-resolve and determination. Like many agencies we retain a physical base that's well resourced, Covid secure and there for when we need and want it.
As a team, we're as tough as they come. Seasoned agency professionals all. And we believe that world class strategic creative communications means absolutely nothing without world class customer service. And while we push boundaries, pushing ourselves and each other very often to the limit, we're only able to because we take time to look after our individual and collective Wellness. We have done so for many years, long before it became a trend.
So if you're contemplating 'where next' for your talents, then we'd love to hear from you. Wherever you are in the UK – near or far, consider Fuel as the new home for the work you do best.
Join us. Advance your career here….
Midweight Motion Designer
Are you a talented motion designer looking to take the next big step in your career? Join our thriving creative team and deliver motion projects for some of the biggest global tech and B2B brands.
Discover more details
Bringing IGEL's Disrupt event back better than ever.
Immersing NXP's customers in a highly interactive experience.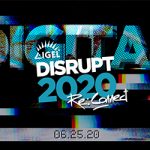 Reconnecting IGEL's EUC pros in a virtual event to remember.