Jane Tolton, Company Secretary at Fuel Integrated, shares why her art teacher was such an inspiration to her.
#Inspiring People: Beth Hanson, art teacher.
See our work
Jane Tolton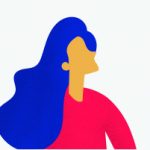 My inspiring person was my art teacher at college. Her name was Beth Hanson. She was very forward in her teaching style and thinking back in the late 70's, where women were still thought to be homemakers and not to do any work that was "above them".


I was a very shy teenager but with a longing to be involved in some way in the arts, be it through painting or Fashion. So, when I had the chance to go to Southend Technical College I jumped at the opportunity.
There were 12 of us in our class and she treated each one of us the same, bringing out our best as we grew in confidence and talent. She was the first teacher I knew who had run her own company as well as doing teaching.
"Beth was passionate about giving people the opportunities to do things for themselves."
I remember the day I got my first interview. I went to college as usual and Beth asked if I would like to go to London for a job interview, she had sent some samples of my work and others in the class, to a design company in Sedley Place, London who were looking for a colourist for fashion fabrics.
I said yes, but I would have to go home and change my clothes, but she said I had no time as I had to be there at 3pm it was by now 10.30am. So, she lent me some money to go and buy an outfit and the train ticket. I went to the interview with my art folder and fingers crossed the I would not let Beth down, by the time I got back to Southend the design studio had called to say I had the job.  She believed in me so much that I could do it.
I stayed with Alan Palm Designs for 8 years, hand painting samples of fabrics in different colourways on card for fabric/textile printers to produce later.
I also went all around Europe to fashion and fabric shows to sell our designs to other fashion and textile houses.
I know that without Beth being there at the beginning to help push me I would not have ended up where I am today.
We want to know who Inspires you. Join the conversation.
@FuelIntegrated #InspiringPeople
Find out more
About the author.
Jane Tolton is the Company Secretary at Fuel Integrated.
More interesting reads...
How to transform your digital tools and fix leaky sales pipelines
Small details, big difference: 9 event tasks you can't afford to forget
Website features to power up product offerings